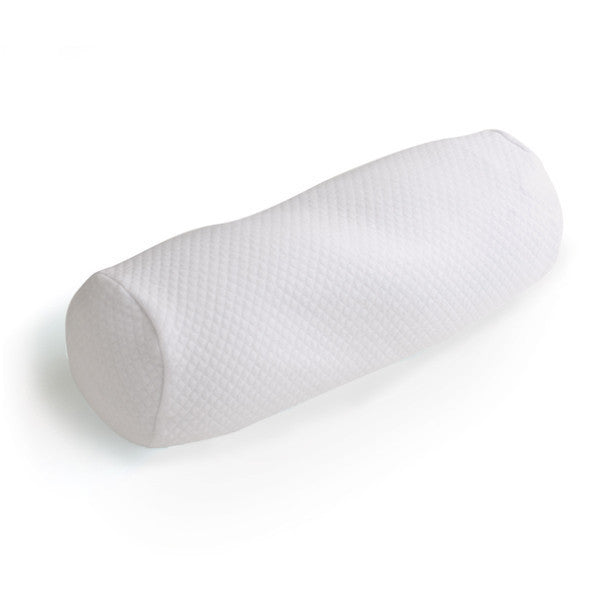 Comfort Bolster Pillow Cover White
Description
Freshen up your Bucky Comfort Bolster Pillow with our zippered 100% cotton pillow case, designed especially to fit the Comfort Bolster. All pillowcases comes in a clean, bright white color and measure 16 by 6.5 inches. All Bucky pillow cases are made of high-quality cotton and are quilted to create a soft, cushioned effect. Durable and made with no synthetics, sink into comfort with Bucky's luxuriously soft pillow case!
Machine washable on cold; tumble dry low. Do not microwave.
Complete pillows sold separately.
FAQ 
Can I microwave my Comfort Bolster Pillow?
No. This item is not suitable for heating in the microwave. It has metal zippers which can cause fire when microwaved. Please see our Heatable Tab for a selection of items that can be heated.

How do I clean my Comfort Bolster Pillow?
The Comfort Bolseter Pillow is designed to be easy to care for and its cover and liner can be machine washed cold, tumble dried low. Do not wash filling! Hull filling may be placed in the freezer for freshening. Remove pillow from case prior to washing.

How do I adjust my Comfort Bolster Pillow?
Simply unzip the outer cover and inner liner to add or remove filling to your desired comfort level. You may purchase extra Millet Hull filling in the Covers & Fillings category.

What are the benefits of sleeping on Buckwheat and/or Millet?
Please click on the Fill Type Tab to learn about all the benefits of Buckwheat and Millet.

How much filling do I need to completely refill my pillow?
2 lbs. of Millet Hulls