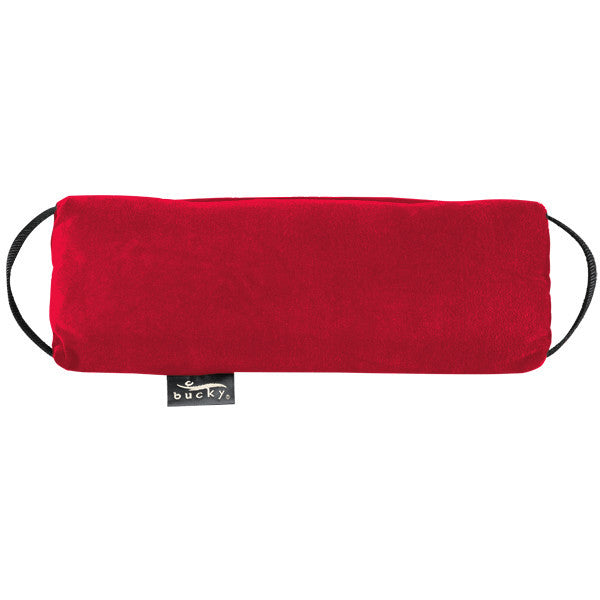 Baxter Adjustable Back Pillow - Cherry
Description
A best-seller and customer favorite for 20 years, Buckys Baxter Back Pillows are guaranteed to provide the highest quality mobile lumbar support wherever you go—take it in the car, to the office, or to relax at home to soothe tense lumbar muscles and relieve back pain.
The secret to this therapeutic design is the eco-friendly buckwheat hull filling, which contours to the body and distributes weight evenly for optimal support. The interlocking nature of buckwheat hulls allows for continuous ventilation and keeps the pillow from overheating, even when used for a long period of time. Even better, Buckys buckwheat filling is triple-cleaned and 99.9% dust free, making it hypoallergenic and ideal for those with allergies. All Bucky buckwheat is grown without fertilizer, pesticide, and includes no additives.
To get a custom fit, use the hidden zipper to add or remove filling. Measuring at 15 inches long by 5 inches wide, the webbed handles on each side make adjustments easy—simply rotate the pillow until your ideal level of back support is found. Buckwheat hulls dont lose shape or flatten over time—mold to your desired shape and enjoy the benefits of muscular relaxation. The soft velour cover is removable and machine washable.  DO NOT MICROWAVE.
Great solution for those who have back pain from long hours of sitting

Perfect lumbar support for travel and driving

Guaranteed
Product Q & A
How do I clean my Baxter Back Pillow?
The Baxter Back Pillow is designed to be easy to care for and its cover and liner can be machine-washed cold, tumble dried low. Do not wash filling! Hull filling may be placed in the freezer for freshening.

Can I microwave my Baxter Back Pillow?
No. This item is not suitable for heating in the microwave. It has metal zippers which can cause fire when microwaved. Please see our Heatable Tab for a selection of items that can be heated.

How do I adjust my Baxter Back Pillow?
Simply unzip the outer cover and inner liner to add or remove filling to your desired comfort level.

How much filling do I need to completely refill my pillow?
2 lbs. of Buckwheat Hulls